This page is about two short stories collections from Livingston Press.
The first one, which came out in July of 2021, is titled An Accidental American Odyssey.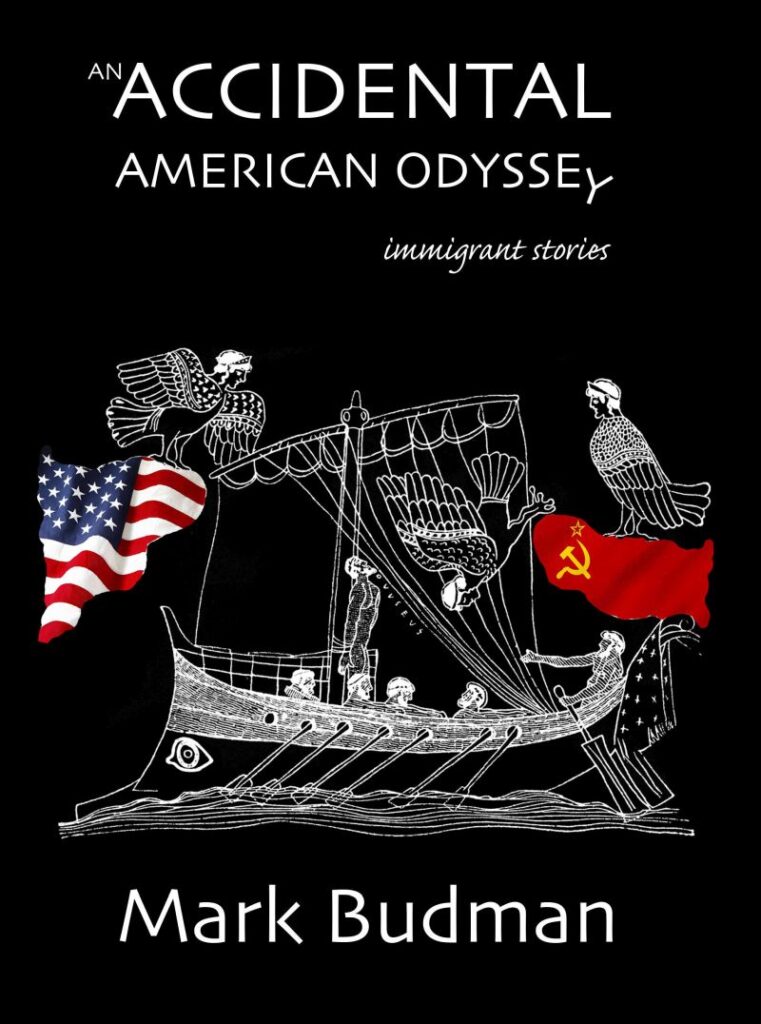 It takes a very long time to become young.
― Pablo Picasso

Every one of us is an Odysseus yearning to go home, even if we have a home already. This is especially true about immigrants.

In this short story collection, which is a mix of traditional and magic realism you'll meet immigrants, some ordinary, or some with superpowers. Zoluhska, a Russian Cinderella-mail-order-bride longs for an American Prince, but he has his own agenda. A pre-Olympian Titan, falls for the cubicle mate with a crash of titanic proportions. Soupmann—Superman's third cousin, twice removed, loves another superhero—Saltwoman but their love is tested by something worse than kryptonite. V. I. Lenin's faithful janitor from the Mausoleum gets advice from his dead boss, with unexpected consequence. An imp who used to live behind Napoleon's ear, now works as an influencer, advising heads of states. All of them are embarked on their own Odyssey, and though they speak with an accent and have their own baggage, they all came to America hoping for a better future, and trying to make this country better.

Reviews
In a word Mark Budman's stories are inventive. They are also funny, satirical, poignant, crazy, and soulful. No matter how fantastical these stories get, no matter how many brilliant poetical conceits are packed in just a few pages, ironical understatements ground us. I like the one about the janitor in Lenin's Tomb, who by a stroke of fate is promoted to head janitor. And all of these stories remember to be entertaining.

–Robert Shapard, co-editor W.W. Norton flash fiction book series, including Flash Fiction International: Very Short Stories from Around the World.
Mark Budman's new and intriguing collection of 21 stories is a sequence of empathic, wry, melancholy, or startling revelations. In just a few pages, each narrative evokes a fully dimensional time and place populated by distinctive characters living their lives, depicted in these moments with the precision of an Eadweard Muybridge photograph.
–Katharine Weber, novelist and Editor at Large, Kenyon Review
First generation Russian immigrant Mark Budman begins An Accidental American Odyssey with his concession any search for the perfect word is even more futile than the quest for a happy ending, American or otherwise. It's not by accident. Budman then proceeds to imagine twenty-one fantasies, to conjure a kaleidoscope of ekphrasis and synesthesia through which he displays not only mastery of his craft but also mastery of his second language Nabokov would applaud.
—Writer Advice. The complete review.
From a review in Kirkus Review:
Budman's collection of short stories offers an occasionally surreal examination of immigration to America with an emphasis on Russian newcomers.
The collection is now available for preorder from the publisher. Or here.
Or on Amazon.
Or perhaps you want an autographed copy? A paperback copy is just $12, including shipping (continental US only).
Order by PayPal to vrflash@gmail.com. Please include your complete mailing address.